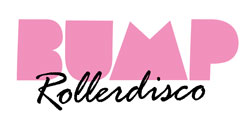 Disclaimer
I understand that the activity that I am about to do is classed as an extreme sport and that if I injure myself in doing this activity; it is at my own risk that I am taking part in this activity. Therefore cannot claim BUMP Rollerdisco or Bristol City Council, should I injure myself in this activity.
I understand that it is advisable for me to wear protection whilst taking part in the Rollerdisco and it is available free of charge, if I don't wear it then this is my own choice. Also it is advised to remove your rollerskates before leaving the main skate area and entering any for the following area's :
– The smoking garden
– Front reception area
– Bar area
– Toilets
NOTE: We will NOT pass your details onto anyone else. We may email you news and offers from time to time.